Essential Oil Ointment
Correct X  combines several powerful skin-loving essential oils designed to heal your skin, it's something everyone should have in their medicine cabinet, there is NO PETROLEUM in this product, which is a very good thing!  This product is a must to have on hand for dealing with skin lesions.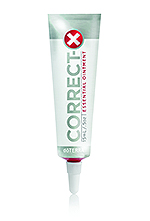 Visit Doterra to purchase, click the shop link, and search for Correct X.
Details:
The ointment contains Frankincense, Helichrysum, Melaleuca, Cedarwood, and Lavender
Certified Pharmaceutical Grade essential oils are known to help assist in soothing skin irritations.  This multi-purpose, all-natural ointment helps soothe skin and keep it clean while recovering from distress. Correct-X provides a moisture barrier that helps protect while simultaneously soothing and hydrating the skin. This petroleum-free, preservative-free ointment absorbs quickly and is gentle and non-irritating, making it ideal for sensitive skin.
Resources